Gift Vouchers
Home & Pet Care Gift Voucher
Gift Vouchers
Why not purchase your relative or friends a Care 4 Services Gift Voucher.
A Care 4 Services Gift Voucher entitles the bearer to a wide range of services to be completed by our friendly & reliable staff. This is truley a wonderful gift and has been purchased for many different occasions: eg. Baby shower, moving house, house warming gift, friends or family recovering from an illness/injury, Mothers Day, Fathers Day, Couples away on their honeymoon or due to return, Christmas and much more.
We have a wide range of vouchers available. Contact us now, send us an email or submit an on-line enquire and we will arrange to send a gift voucher out to you.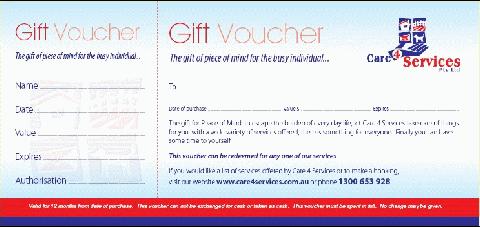 $30.00 price per service (includes GST)